Quietways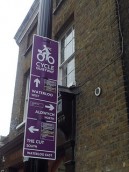 Quietways are quiet routes through London that form part of the Mayor of London's vision for cycling.
Quietway1 (Q1)

The first Quietway opened in 2016 was Quietway 1 which runs through Lewisham from Greenwich to Waterloo. One or two sections e.g. Childers St & Deptford High St crossing, still remain to be completed during 2017.
Lewisham Cyclists worked with the London Borough of Lewisham (LBL) to ensure a safe, quiet route that can be used by all cyclists.  You can read our response to LBL's consultation on the Q1 section in the borough here. LBL's original plans for the route can be found here.
An Excel spreadsheet with details of the responses to LBL's consultation on Q1 can be found here
Our post-implementation review of the LBL section of Q1 can be found here
Q1 also runs through Southwark to Waterloo Bridge.  Southwark Council's original proposals are here.
Quietway 83 (Q83)

This is the upgrade of part of LCN22 (Bermondsey to Catford) to Quietway standard – currently (mid 2017) in the outline planning stages. Go here to view Lucia Quenya's summary of the 19/5/17 ride-over of the Southwark section of the proposed Q83.
Other planned Quietway Developments in LBL
There is a map of the Phase 2 proposed Quietways in LBL here.
This includes:
Upgrade of Waterlink Way (NCN21) to Quietway standard – currently (mid 2017) in the outline planning stages