Clerkenwell and City Sunday Ride
A very chilly autumn morning in thick fog saw only eight of us at Ladywell, joined by three more at Greenwich foot tunnel for the City ride this morning.
    So 11 of us headed down into a strangely empty foot tunnel.  So empty, that Maxine decided quite justifiably, that walking through was a bit mad and rode to the lift at the other end.  When I'm leading a ride, however, I tend to be a bit obsessive about observing rules and regulations.  I carried on walking and everyone else followed on.
We emerged and headed for the riverside path.  The fog was so thick, the southern bank was invisible, in fact, the river itself was completely shrouded in mist.  Just before  the turn off the path to Westferry Rd, there was a call from behind…the call of doom…"Pu***re!
We removed the offending tube, which seemed to have been strangely folded up on its initial installation.  This may have been the cause as despite several searches no other problem could be found and the tyre was a brand new Gatorskin.  The tube had been originally installed by a bike shop, so you would not have expected such a fault.  Yet another reason to come along to our workshops and learn how to do this kind of stuff yourself.
Lots of glass around this morning, possibly due to an excess of Halloween partying last night.  This caused a few stops to check tyres when we rode through a couple of harder to spot patches.  We finally managed to head off the Thames Path at Limehouse and made our way on to the Regent Canal at Limehouse Basin.
The canal can be a lovely ride.  But, as time has gone by, it is no longer the quiet towpath it was years ago.  Popular now with joggers, walkers and cyclists, it's a narrow space to share between all those who want to enjoy it.  Years ago, it was a good space to take inexperienced cyclists.  No motor traffic to worry about, just ride your bike.  These days however, it is arguably more challenging than riding on road and I would not take inexperienced riders or large groups along it any longer. I had a back up route planned  in case this happened, but our smaller group of reasonably experienced riders coped fairly well.
We rode all the way to the Islington tunnel.  By this time, the mist had almost completely gone, the sun was out and the light at the end of the tunnel could be clearly seen as we gazed up the canal at it.  We then took the ramp up to road level that  thousands of barge horses and their handlers must have taken before, while the barges were powered through the tunnel by bargees, flat on their backs literally walking their craft through, against the tunnel walls.
At road level now, people were eager for a coffee break.  Exmouth Market was nearby so we rode through the elegant squares that abound in this part of Islington, following the cycle route that cross the busy roads to the Angel and North London.  Just before we turned right into Exmouth Market, I turned to check everyone was with me and the next thing I knew I was on the ground.  My front wheel had hit a pothole in the middle of the road and sent me flying.  I landed with my right side hitting my handlebars and was completely winded.  My fellow riders rushed to help and I was soon sitting outside a cafe, awaiting a creamy sweet hot chocolate which helped sort out those dizzy disorienting feelings a minor shock often brings. I hadn't seen the pothole at all and when we checked it out, it was almost invisible as it was more a sunken area of road rather than a regular pothole.  The top layer of Tarmac wasn't really broken, but it was a fairly sizeable depression in the road surface, made all the more dangerous by its near invisibility until closely inspected.
I was not seriously hurt, although my ribs were a little sore.  And once I'd rested, and had lunch, we carried on.  Riding wasn't particularly painful and we went through the old cobbled streets around Clerkenwell Green, once the centre of London's Little Italy and home to the Marx Memorial Library.  This is housed in an attractive Georgian building that began as a charity school in 1738, and, after years in which it was used as a commercial building, including a pub, eventually became the home to various radical groups from the second half of the nineteenth century onwards.  Here the radical newspaper of the Social Democratic Federation, Justice, was published, whose contributors included anarchists and socialists famous and not so famous. Lenin, during his time in London, published issues of Iskra (The Spark) from here too.  It finally became the home of the Marx Memorial Library in the 1930's.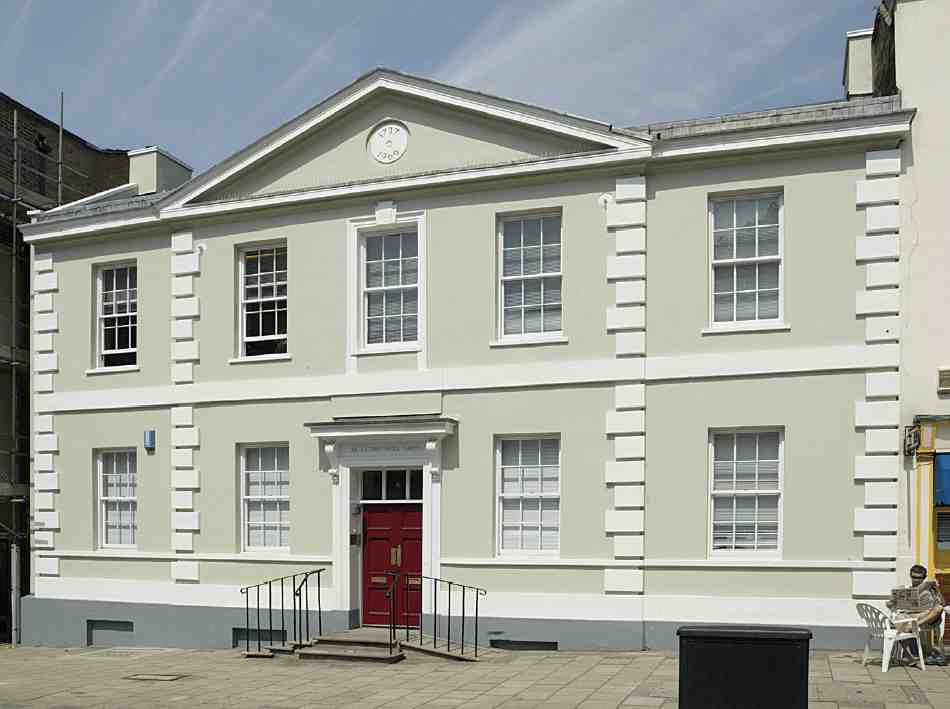 We rode around the Green and out, on to Farringdon Lane crossing Clerkenwell Rd into Turnmill St which took us down past Farringdon into Cowcross St.  There was a horse and cattle market at the end of Cowcross for centuries on Smithfield and as 
well as Smithfield market there was a separate cow market, with its own market cross after which Cowcross Street is named. This stood at the junction of St John and Cowcross Streets, where a small open area still exists.  Like St John Street, Cowcross and Turnmill Streets were used for droving and were the main routes from the north into and out of
London.  There is some fascinating history to be read here, if you are interested.
We rode around the fine Victorian structure of Smithfield market , built in 1868 and replacing the old livestock market which modern Victorians who lived in the area could no longer tolerate.  Which, if
Dickens' description of Smithfield in Oliver Twist
is accurate, was hardly surprising.  It's our last working old market left, now Covent Gardens fruit and veg market and Billingsgate fish have moved to more modern premises.
  It's a fine building, in an area absolutely littered with reminders of London's history.  The underground car park next to the market was once the underground railway, bringing the meat carcasses into the new Victoran market now they were no longer to be slaughtered at Smithfield itself.  Beyond that are tucked away some ancient buildings, including St Bartholomew the Great, London's oldest surviving church, from 1123.  Here too, is St Barts hospital and on the walls nearby two commemorative plaques that reminded us it was not only animals that were once slaughtered on the open fields that used to be here.  It was also a place of execution and one of the plaques remembers  William Wallace, while the other marks the killing of Wat Tyler and some of his companions who were cruelly misled into thinking their king, Richard the Second, was willing to make some concessions to the poor of his land, before being attacked and murdered by his supporters.
We rode out of Smithfield through Little Britain where Postmens Park nestles in what used to be the churchyard
and burial ground of St Botolphs, Aldersgate.  It's also near the site of the former headquarters of the old Post Office (GPO) before it split into Royal Mail and British Telecom and therefore derived its name from the large numbers of postal workers who would spend their break times there.  
In 1900, George Fredric Watts installed a  Memorial to Heroic Self Sacrifice in the park, a memorial to ordinary people who died while saving the lives of others and who might otherwise be forgotten.  Watts was a painter and sculptor, the son of a piano maker who despised those who achieved influence and recognition solely through their wealth or birth.  He had considered creating some kind of monument to those whose bravery and courage was never acknowledged due to their lack of wealth and status.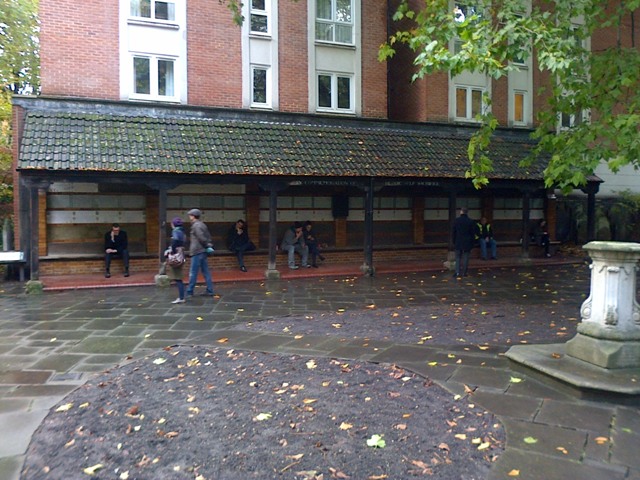 The memorial is in a quiet area of the park at one end, under a shelter, each memorial containing a short, poignant, almost poetic, summary of the individual's last brave deed on earth, recorded on simple but beautiful Arts and Crafts style tiles.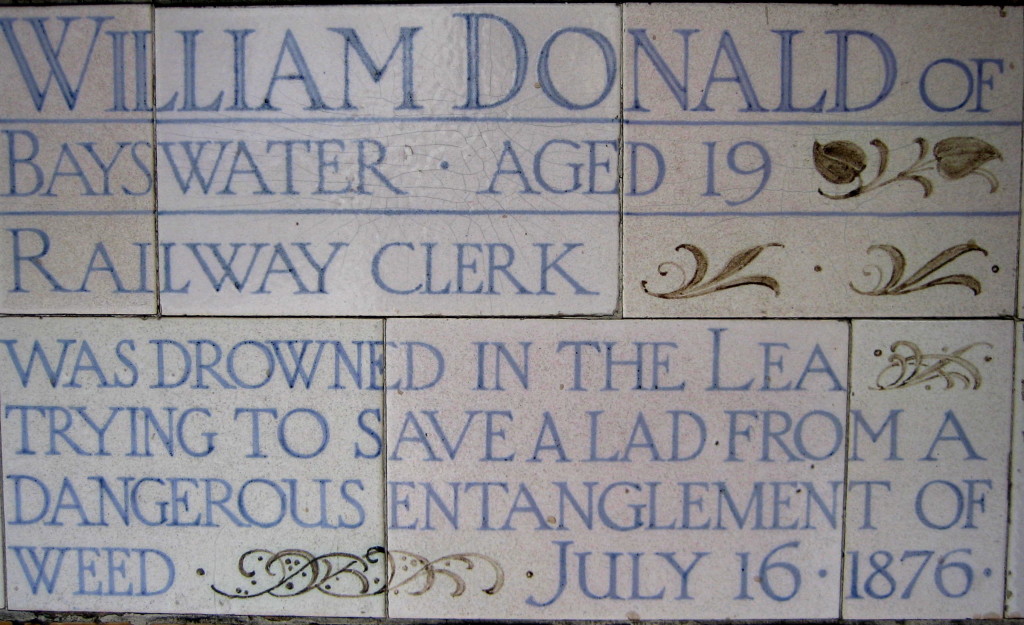 We spent a few minutes here in the peace and quiet, reading the short texts, and reflecting quietly.  Then, we left and rode down towards St Paul's, probably the busiest part of the City on a Sunday, although not with workers and bankers as in the week, but almost exclusively tourists scattered round the steps and square.  The streets even here are fairly empty, only buses and taxis, no vans, lorries, cars to clog the roads.  It was a pleasant ride down Ludgate Hill to the junction with Farringdon and Fleet St where we were to turn on to Blackfriars Bridge.  Here the traffic increased noticeably and the noise and driving styles were more akin to those we experience on a weekday. It's for this reason that Southwark is generally my first choice of bridge to take us back south of the river on these Sunday City rides.  However, Southwark Bridge was closed that day for some kind of filming taking place.   So we were forced on to Blackfriars, made even busier and more hectic than is usual on a Sunday, probably due to Southwark's closure.  This, coupled with the closing of a lane at the southern end of the bridge and some rather selfish behaviour from the driver of a tour bus and a car on either side of our group, made the exit from the bridge less than pleasant, as they had forced their way into the bicycle ASL and then split our group up as we left the lights. But our trusty back marker, John, made sure that no one was isolated and we all regrouped safely at Union St to begin the last leg of our journey home.
We headed across the New Kent Rd and down to Burgess Park, riding through the park to cross the Old Kent Rd to the back roads of South Bermondsey, eventually turning into Southwark Park, and from there across Lower Rd into Surrey Quays shopping centre.  We rode along Deal Porters Way and from there to Greenland Dock so that we could end our ride along the river.  As we approached Deptford, the group began to break up as people peeled off to head to their particular bit of South East London and by the time we were back at Ladywell, just a handful of riders remained.  
Thanks to all for a very enjoyable ride, despite my tumble!  And for all your support getting me back on my feet!  You might be interested to know that I reported the pothole on the Sunday and it was repaired by Monday morning.  Impressive work by Islington Council!   And, I took a day off on Monday, although Tuesday and Wednesday were probably the most painful my ribs became.  But by Saturday I was well enough to lead the hilly Kent ride around Chiddingstone and Penshurst that you can read about later if you wish.