Mend and Ride Bike Workshop
Mend and Ride is Lewisham Cyclists' cycle maintenance project. It is a workshop space with a good selection of tools, and advice and help available from our volunteers plus a qualified bike mechanic.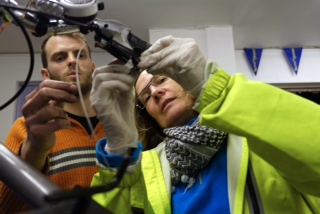 It is not a bike repair shop, it is a space where you will be helped to mend your own bike, getting it back on the road while learning the skills to keep it there.
You will be shown how to check your bike and then how to do any necessary repair yourself. While you're waiting for your turn, you can observe what others are doing and sample a piece of our cake. We supply the tools and some basic spare parts (brake pads, cables, inner tubes, chains, repair kits) which you can buy at cost price. If your bike needs a part we haven't got, then you can bring it with you to the next workshop and we can help you fit it then. Sometimes we have decent second hand parts available at low cost too, such as tyres, wheels, which still have a decent bit of life left in them, for those that need a bit more time to save up for brand new parts. Ring beforehand to enquire.
At the moment we only have one session a month.  Keep checking back with us though, as we are in the process of setting up more.
On the second Sunday of the month, we hold sessions in Deptford at Ron Hoskins Hall
We also hold basic repair sessions, or "Dr Bike". These don't have any teaching involved, just bring your bike along, we'll check it over, do any basic repairs and adjustments that we can and advise you what to do about anything more serious.
On the first Wednesday of the month, we hold a Dr Bike session from 3.30pm till 7pm. That's at Deptford Lounge in Giffin Square on the High St in Deptford. It's the library building.
Most Tuesdays we hold a short Dr Bike session at The Field, 385, Queens Rd, SE14 5HD
Check our events diary for the actual dates as, very rarely, we might have to change them.
There is no set charge, but we do ask for a donation from those in work, for the help and use of tools, plus we do have to charge for any parts supplied.
Coffee, tea and cake available too at the workshop in the Scout Hut, Deptford
If you would like to bring yourself and your bike along, give us a ring on 07826559603. Or email us on lewishamcyclists@gmail.com
We also run a Dr Bike at The Field every Tuesday from 4pm till 6pm If you would like to read our project summary, prepared for Transport For London (who helped us with a start up grant) read it here
This report was prepared only a short while after the project started, so the numbers quoted are quite small. The project is now well established and generally sessions are very busy!