Rides
All our rides are turn-up-and-go. Come as you are : We don't insist upon helmets, hi-viz jackets or insurance although you can of course opt for these if you prefer. Ride leading is shared with Greenwich, Southwark and Bromley Cyclists and their group site links can be found to the right of this page. Other rides from the LCC Rides List and SkyRide Local may also be found from the links to the right of this page. Only Skyride Local needs booking.
Some basic information, which we advise everyone to read, especially if you have never ridden with us before :
Rides are sometimes described as easy, medium or hard. These tend to be a little subjective: one person's easy ride could be quite a tough ride for someone else with less experience or base fitness. However, this is a rough guide to what we mean when we use these descriptions.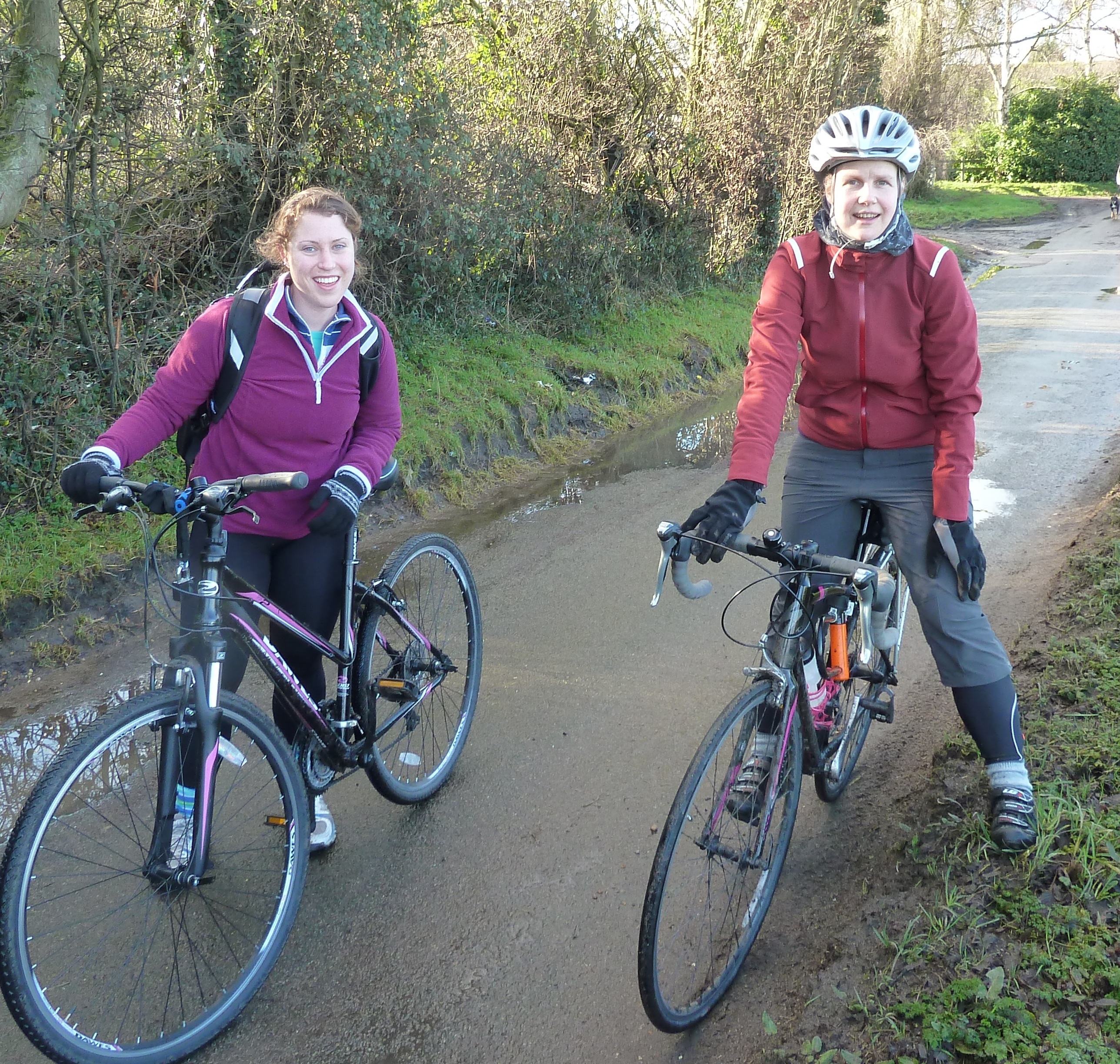 Easy:
Ride will be less than 30 miles, mostly quiet roads, no steep hills, no difficult off-road sections. Leisurely pace. Often suitable for the less experienced rider. However, if you are very inexperienced, ring the ride leader for a chat about it.
Moderate:
These will be between 30 – 50 miles in distance. There may be some hills and/or busy roads, and the pace will be a bit faster, possibly averaging 10 to 13 mph/16kph. Not suitable for inexperienced riders. Try an easy ride first.
Hard:
Longer rides of 50 miles and more, especially in the spring and summer. Usually a fair few hills, some steep. There may also be stretches on busier roads, with fast traffic, although we generally try and avoid these wherever possible. If it's an off road ride, or one with off road sections these may be tougher on a ride labelled Hard. The pace is usually faster than a moderate ride, up to 14mph/25kph. However, if it's a very hilly ride, the hill content itself may justify the Hard label alone and the pace will still be about 10mph/16kph. We don't race, but bear in mind, if you only average 10mph/ 16kph on a flattish ride, you will struggle to keep up on a very hilly ride. A 100 mile flat ride is way easier than a 60 mile very hilly one.
Most of our rides are suitable for a range of bikes; hybrid, mountain bike, road bike and there is no need to have specific cycle clothing, but if you are in doubt as to the suitability of your bike, the ride leader will be pleased to advise you. Their contact details should be at the end of the particular ride's information on the rides and events page on our website and Facebook page.
Please be aware that Ride Leaders are not necessarily experienced mechanics and it is the responsibility of individual participants to ensure their bike is in a safe and roadworthy condition before joining the ride.
However, ride leaders will happily assist individuals, to their best of their ability as experienced cyclists, if mechanical assistance is needed, within reason. (Time and needs of other riders will need to be taken into account here).
We always try not to leave anyone behind – for example if there is an incident, or a rider cannot keep up with the group we would adjust the pace of the ride to keep the riders together. If it is necessary for someone to leave the ride we will assist them, as far as is reasonable, to get home safely e.g. getting them to a train station or calling a taxi.
Basic Equipment you should always bring on a ride:
1. a spare inner tube to fit your bike, pump and tools
2. lights if there is a possibility of them being needed
3. suitable clothing (e.g. waterproofs, warm additional clothing layers)
4. drinks and snacks as appropriate (see our flapjack recipe for a good healthy cycling snack).
5. a lock (unless you are prepared to leave your bike unlocked). For most of our country based rides a cheaper cable lock is usually sufficient. However, in London, it's advisable to use two good locks.
6. A contact name and phone number
7. and possibly : Helmet,sun glasses,maps, camera, mobile, 1st aid kit
In addition make sure you provide the ride leader with your mobile phone number (for a phone you are carrying on the ride).
Note that,on our rides we DO NOT necessarily have
1. a trained first aider
2. a qualified cycle instructor (unless specifically stated)
3. qualified mechanics
4. support vehicles to carry any belongings
and we DO NOT take unaccompanied children (under 16's)
Although on our easy rides especially, we would welcome adults bringing children along. If you want to bring children on a harder ride, ring the ride leader first to discuss the suitability of the ride for the child.
The Ride Leader is responsible for:
1. Planning the route
2. Providing ride information in advance of the ride (including train times and access to attractions if applicable) and directions during the ride
3. Ensuring refreshment stops are available
Individual riders must take responsibility for:
1. Own personal safety on the road, and complying with the highway code
2. The safety of any children with you
3. Road worthiness of own bike
4. Listening to, and following ride leader instructions.
5. Informing the ride leader if you wish to leave the ride (so we don't end up looking for you)
6. Informing the ride leader if you have any medical conditions that could be important if there is an accident.
7. Loss or damage caused by you (e.g. scratching the paint on a parked car). If you are an LCC member, your membership includes third party insurance which would cover this. We strongly recommend all cyclists to have some sort of third party insurance cover. And we'd recommend the London Cycling Campaign as the best organisation for leisure and utility riders in London
8. Checking the information given for the ride, so that you can judge that you are capable of completing the ride.
And, finally, here's one suggestion for a good cycling snack!
Basic Flapjack Recipe
4 ½ oz/ 6 tbsp Golden Syrup or corn syrup
2 sticks/200g unsalted butter
12 oz/330g porridge oats
MethodPreheat the oven to 350°F/180°C/Gas 4
Butter a 9″x 13″/23cm x 33cm Swiss roll tin and line the base with baking parchment.
Place the syrup and butter into a large saucepan and heat gently until the butter has melted into the syrup and stir well. Make sure you add all the golden syrup, sometimes it is hard to get it exact and more is always better than less if you want your flapjack gooey but not falling apart.
Put the oats into a roomy baking bowl, add a pinch of salt then pour over the butter and syrup mixture and stir to coat the oats.
Pour the mixture into the prepared tin and spread evenly to fill the tin making sure the surface is even.
Bake in the preheated oven for 25 minutes or until golden brown. Remove from the oven while the flapjack is still slightly soft, they will harden once cool.
Place the tin on a wire cooling rack and cut the flapjack into squares and leave in the tin until completely cold.
The flapjack keeps well stored in an airtight tin. Possible variations: Coconut Flapjack – use the same amount of oats and add in 2oz/55g of dessicated coconut and continue with the recipes above. Apricot and Honey Flapjack – a healthier recipe than the traditional flapjack. Make using 3½oz/100g butter with 3oz/85g soft brown sugar and 3 tbsp honey, 12 oz/350g oats mixed with 3½oz/100g dried apricots, finely chopped and 1 small banana, mashed. Nuts and Seeds – add 2 tbsp chopped mixed nuts and 2 tbsp of mixed seeds such as pumpkin and/or sunflower to the basic mixture. You can also add 100 gm of your favourite dried fruit. One of my favourites is dried sour cherries, or cranberries.