NB. This route is largely open now, although not yet finished.  The developers have been reasonably good at keeping us informed and sticking to to their promises, with a couple of little hiccups here and there.  Please keep us informed of any problems on the route so we can take it up with them as soon as possible.  The development won't be finished till 2016.
The section of NCN 21 which runs through Lewisham underneath the South Circular and then alongside the Pool River to Bellingham is a rare gem in our busy borough. Several miles of either completely traffic free or very quiet roads, upon which one could ride with the family, for a day in the park, a jaunt by the river or a trip out shopping. That could all be about to change. The development of Catford Dog track derelict and empty for a few years now, is all set to start. And we have just been sent the plans the contractor suggests for re routing the Waterlink Way around the development site.
We got sent a Stopping-up plan
This was hard to interpret and we thought the plan was to send cyclists across the South Circular to the Waterlink Way, as the safe crossing under one of the busiest roads in South East London looked inaccessible on the rather vague drawing.
Then we got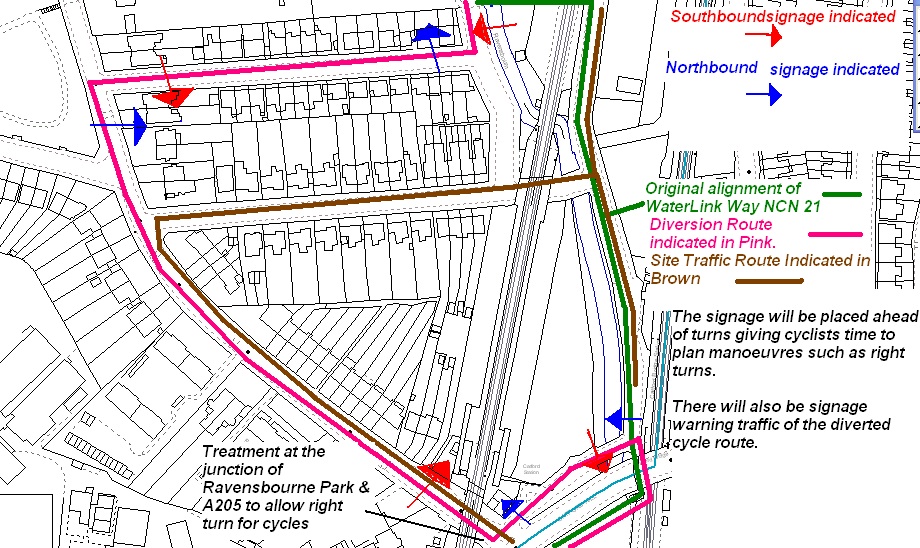 which was clearer, and now seemed to show that the traffic free crossing under the South Circular was still accessible, but by a hilly and much longer route, exiting Ladywell Fields at the top of the hill, turning left into Ravensbourne Park Rd (a fairly busy road itself) and then left into Adenmore Rd by the station. The return journey involves a difficult right turn out of Adenmore going back up that hill, between parked cars and fast moving motor traffic and another right turn before reaching the quiet and safe haven of our much loved traffic free paths. It didn't feel good.
Add to that, the fact that there seemed to be no useful dates anywhere on these documents indicating when any change might start, how long it might last for and finally no indication what kind of route would exist after the development was completed and the result was a very large group of worried, and annoyed cyclists, not just in Lewisham, but Bromley as well. It's a popular commute route as well as a great leisure and utility route used by pedestrians as well as large numbers of cyclists.
We have contacted Nick Harvey, Lewisham's Cycling Programme Manager and he has assured us he is consulting already with those responsible for the rerouting. Unfortunately, while we know he understands the importance of the route to the community, and the transport network in Lewisham, and trust that he will do his best to communicate this, the way this has been handled so far does not fill us with confidence that his view of the importance of cycling in the borough is shared by the contractors, or indeed,  all Lewisham's transport team.   No prior consultation with route users, no attempt to quantify the importance of this route within Lewisham's transport network, no attempt to make the re routing as safe as possible a replacement.
We are hoping to get answers to our questions in the very near future.  We are hoping that those answers will reassure the large numbers of people who use this route that they will still be able to make their journeys safely, free from the danger of fast moving traffic, be they young, old, able or less able, experienced cyclists or less experienced.  We are hoping.  And we are waiting for those that seem to think that a change to a cycle and walking route is not such a big deal really, to recognise and understand just how wrong they are.